IT General Contractor
Providing Cutting Edge
IT Solutions in China
Since 1996
ITR is a leading China-based IT general contractor and service provider.
With a 24 year track record, ITR has been a preferred IT partner for a wide range of blue-chip multinationals operating throughout China, with a particular focus on 4 and 5-star hotels. As one of the largest Western-managed IT solutions providers in China, we have multinational staff based in Beijing, Shanghai, Guangzhou as well as Chengdu.
ITR offers a comprehensive portfolio of IT services to China's business and diplomatic communities, providing turnkey and specialized vertical solutions for offices, research centers, hotels and manufacturing plants. As a long-term IT partner, we provide comprehensive and innovative solutions for their diverse IT needs, including IT systems design, implementation as well as ongoing maintenance and support.
Our History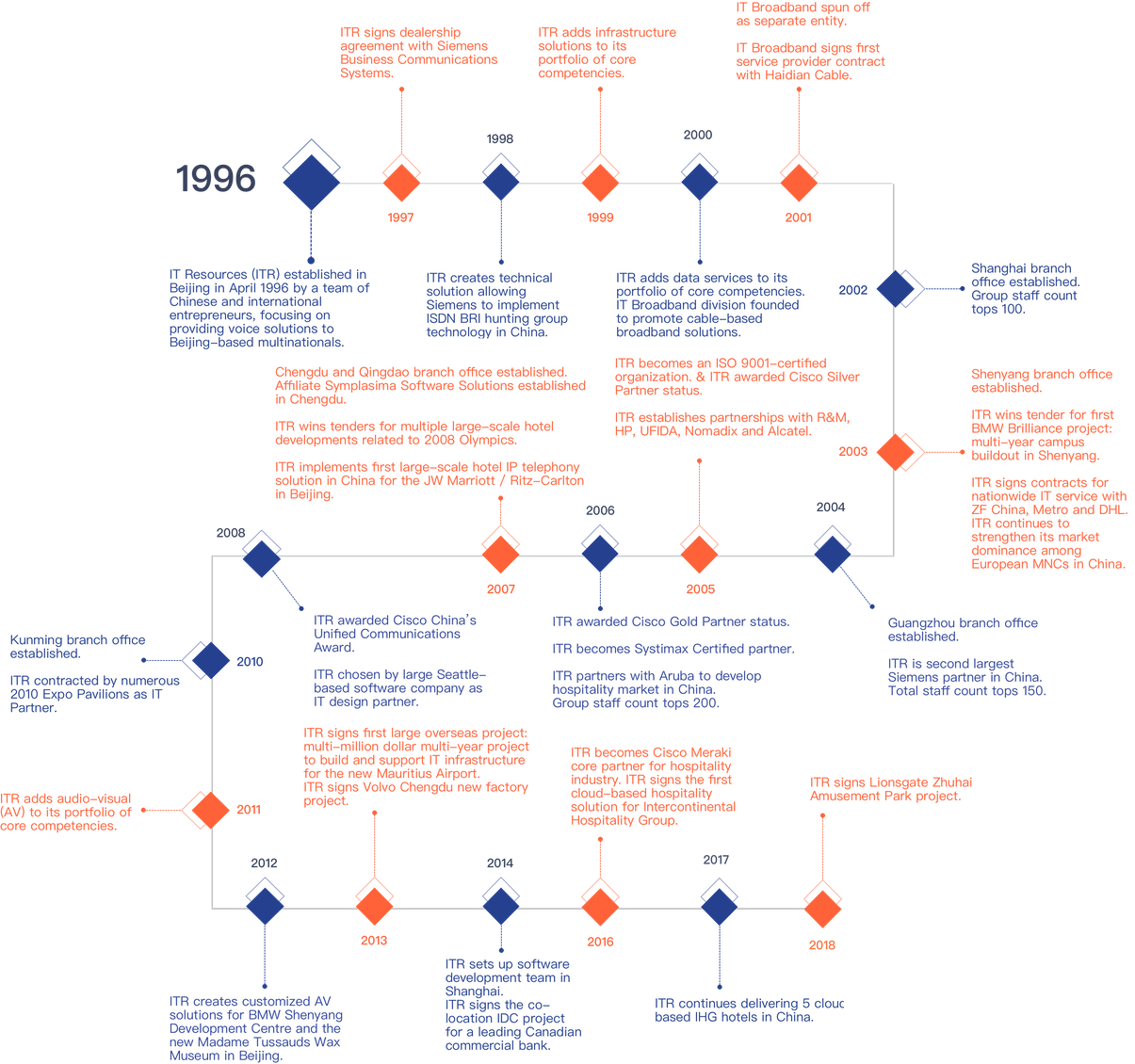 1996
IT Resources (ITR) established in Beijing in April 1996 by a team of Chinese and international entrepreneurs, focusing on providing voice solutions to Beijing-based multinationals.
1997
ITR signs dealership agreement with Siemens Business Communications Systems.
1998
ITR creates technical solution allowing Siemens to implement ISDN BRI hunting group technology in China.
1999
ITR adds infrastructure solutions to its portfolio of core competencies.
2000
ITR adds data services to its portfolio of core competencies. IT Broadband division founded to promote cable-based broadband solutions.
2001
IT Broadband spun off as separate entity. IT Broadband signs first service provider contract with Haidian Cable.
2002
Shanghai branch office established. Group staff count tops 100.
2003
Shenyang branch office established. ITR wins tender for first BMW Brilliance project: multi-year campus buildout in Shenyang. ITR signs contracts for nationwide IT service with ZF China, Metro and DHL. ITR continues to strengthen its market dominance among European MNCs in China.
2004
Guangzhou branch office established. ITR is second largest Siemens partner in China. Total staff count tops 150.
2005
ITR becomes an ISO 9001-certified organization. ITR adds business consulting to its portfolio of core competencies. ITR awarded Cisco Silver Partner status. ITR establishes partnerships with R&M, HP, UFIDA, Nomadix and Alcatel.
2006
ITR awarded Cisco Gold Partner status. ITR becomes Systimax Certified partner. ITR partners with Aruba to develop hospitality market in China. Group staff count tops 200.
2007
Chengdu branch office established. Affiliate Symplasima Software Solutions established in Chengdu. ITR wins tenders for multiple large-scale hotel developments related to 2008 Olympics. ITR implements first large-scale hotel IP telephony solution in China for the JW Marriott / Ritz-Carlton in Beijing.
2008
ITR awarded Cisco China's Unified Communications Award. ITR chosen by large Seattle-based software company as IT design partner.
2010
Kunming branch office established. ITR contracted by numerous 2010 Expo Pavilions as IT Partner. Group staff count tops 300.
2011
ITR adds audio-visual (AV) to its portfolio of core competencies.
2012
ITR creates customized AV solutions for BMW Shenyang Development Centre and the new Madame Tussauds Wax Museum in Beijing.
2013
ITR signs first large overseas project: multi-million dollar multi-year project to build and support IT infrastructure for the new Mauritius Airport. ITR signs Volvo Chengdu new factory project.
2014
ITR sets up software development team in Shanghai. ITR signs the co-location IDC project for a leading Canadian commercial bank.
2016
ITR becomes Cisco Meraki core partner for hospitality industry. ITR signs the first cloud-based hospitality solution for Intercontinental Hospitality Group. ITR signs agreement with IHG China to delivery the IHG Connect solution across China.
2017
ITR continues delivering 5 cloud-based IHG hotels in China.
2018
ITR signs LionsGate Zhuhai Amusement Park project.
2019
ITR sets up Malaysia subsidiary, Refactor IT. Refactor IT wins tender for IT scope for large industrial development in Kota Kinabalu, Sabah, East Malaysia.
ITR Presence
Below are just some of the many places where ITR has made difference in over 24 years and more than 20 cities.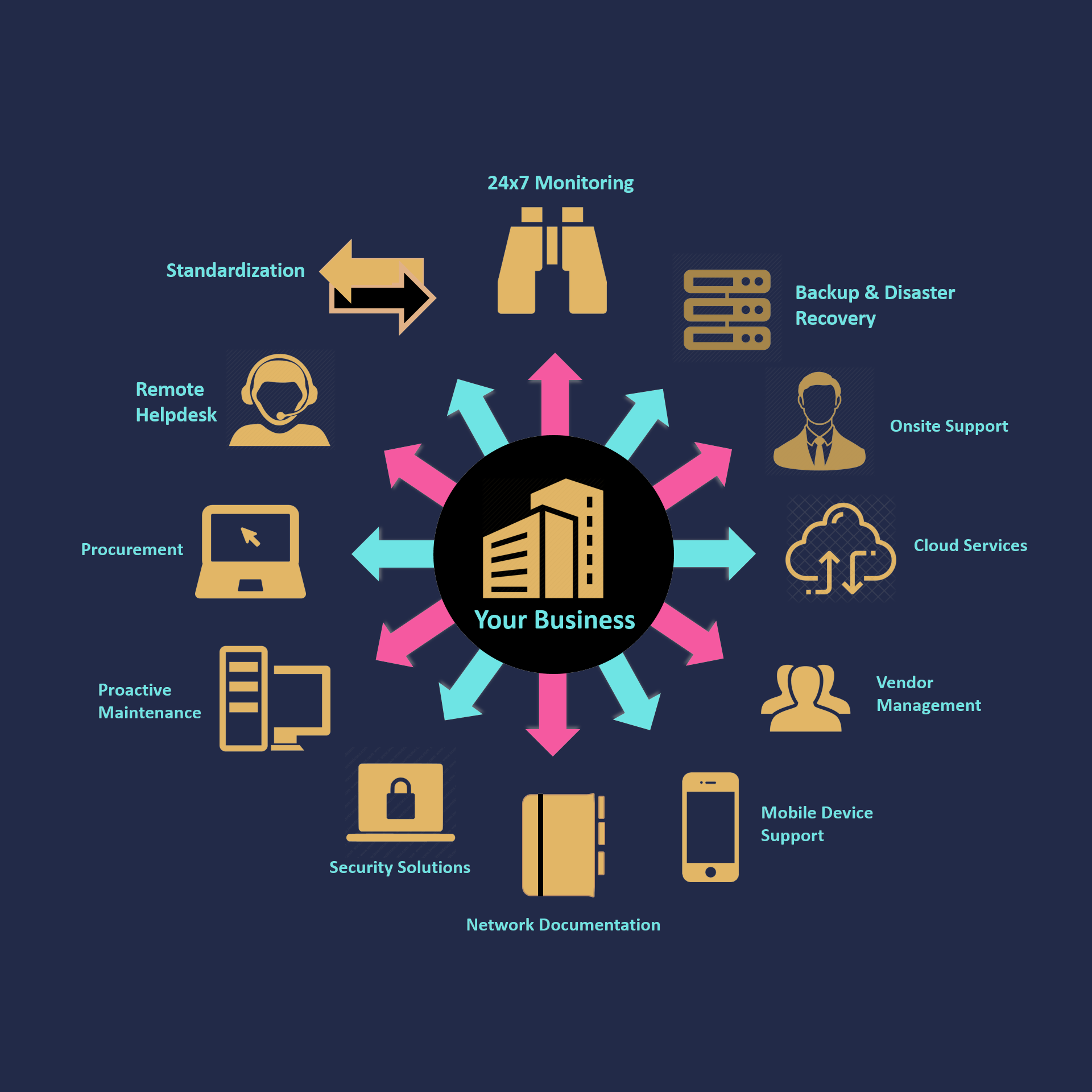 ITR Difference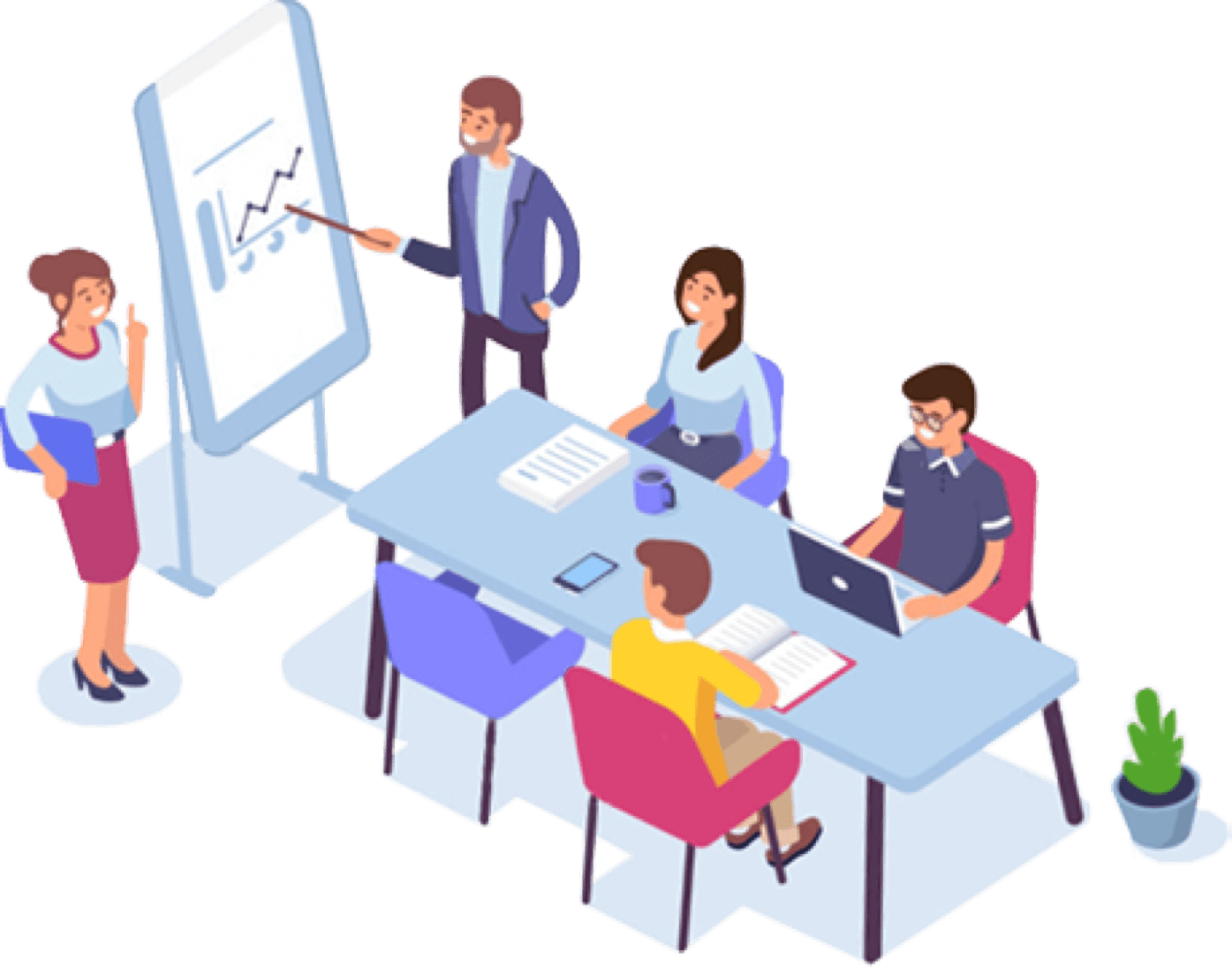 Niche Area of Expertise – Multinational Corporations:
The only multinational workforce specializing in the MNC sector in China.
Highest value proposition due to international staff in all internal departments.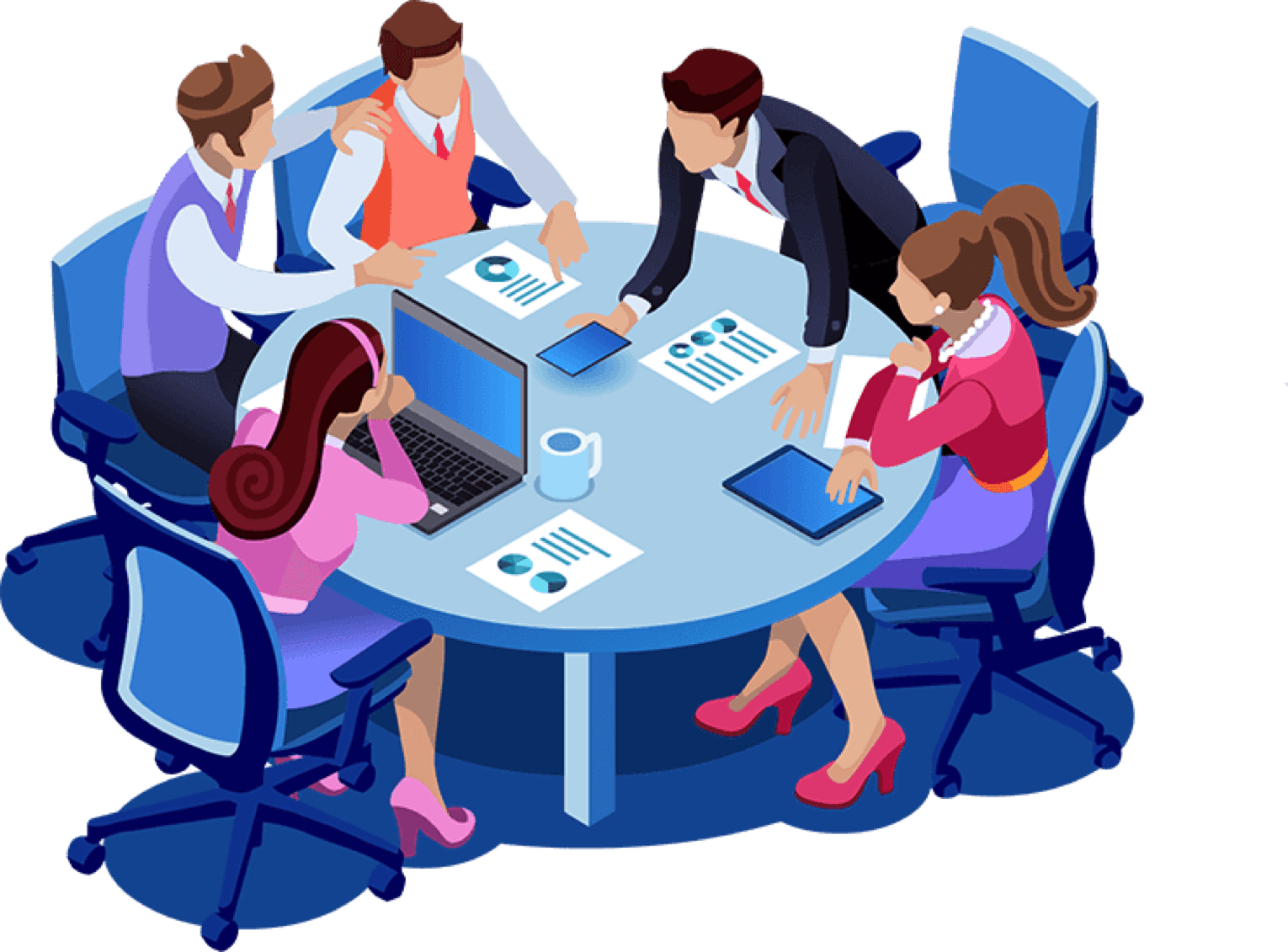 In-house Core Competences:
In-house services to ensure highest quality standards.
Working closely with manufacturing partners.
Reducing dependence with subcontractors to only 5%.
Closely coordinating project management.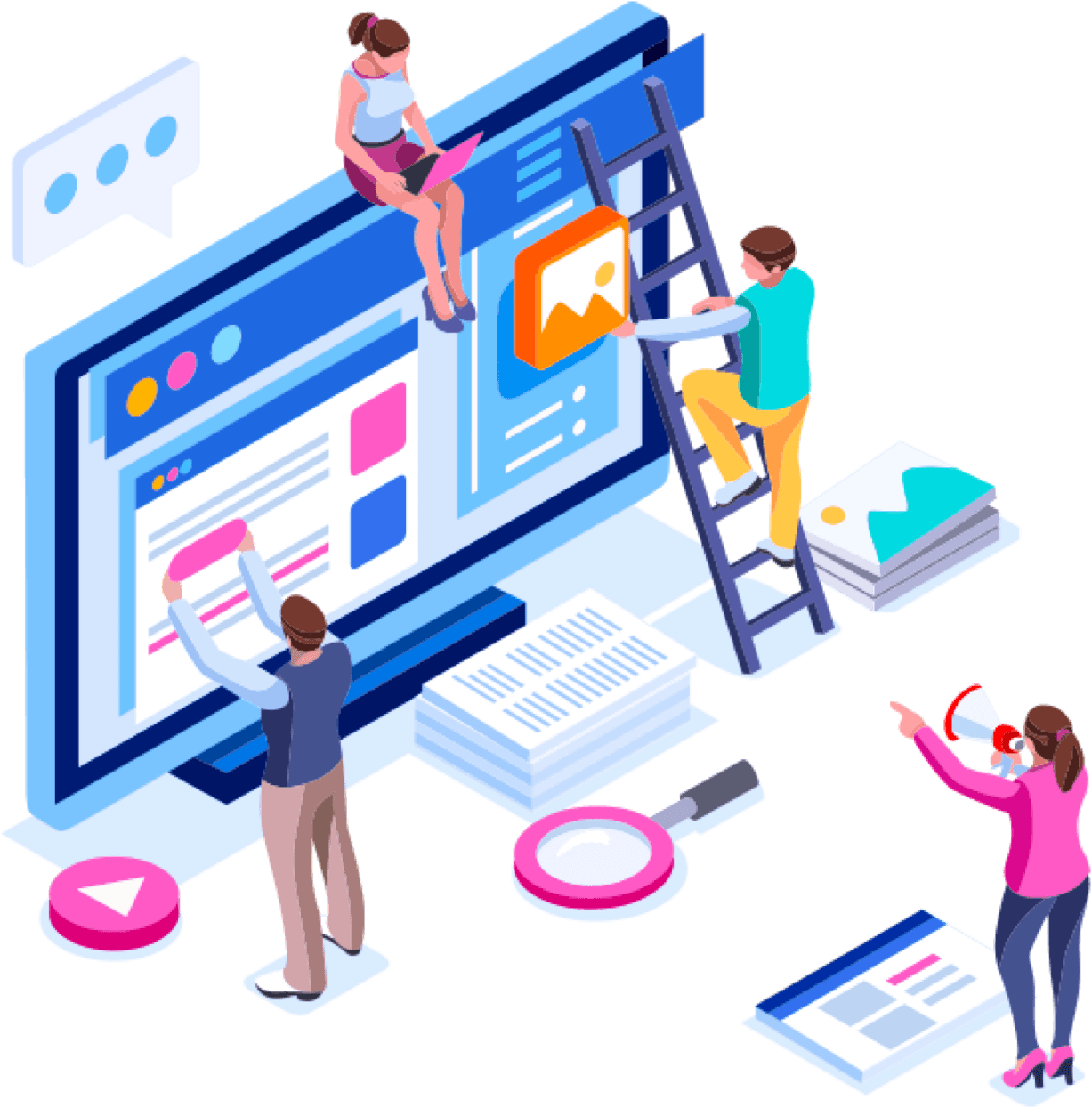 Value-added Consulting:
Our mission is to add value to businesses.
Our consultants strive to understand the unique needs of each client.
Each project is carefully coordinated to ensure tailor value-added solutions.
Our Expertise
ITR's dynamic teams are composed of experienced professionals from China, Europe and the Americas, bringing their diverse complementary talents and skills together to deliver the highest international standards for IT solutions to clients in China.
Supported by sales coordinators, engineers, and back office consultants, our multilingual sales team is fluent in multiple languages inclusive of Chinese, English, German, French, Spanish, Russian, Italian, and more.
Working closely with the sales teams, our IT experts are experienced in designing innovative and comprehensive solutions that fit unique client needs and bring the necessary know-how to implement them accordingly.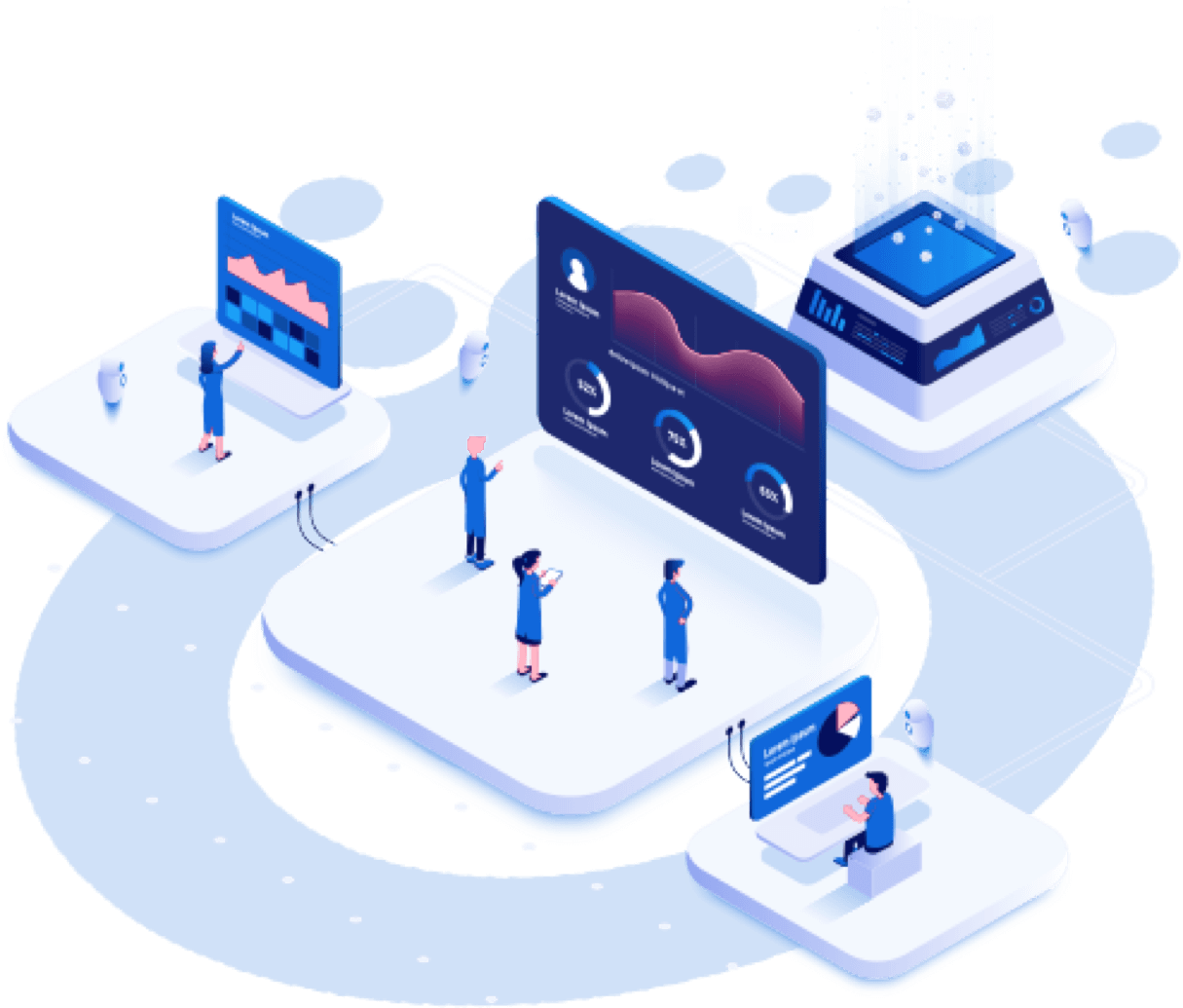 Value-added Expert Services
1

Quality control based on international best practices

2

International project management standards

3

Multilingual services

4

Direct access to international technical support centers
Partners
ITR values quality, reliability and quality of service as much as our clients do. In order to ensure that client standards are fully met, ITR cooperates closely with most global IT industry leaders.
This allows us to stay up-to-date on market developments thus amplifying our ability to offer innovative solutions, as well as to warrant and certify all our projects.
We are certified and preferred partner, distributor and/or reseller of an increasing number of global manufacturers. On this page you will find a list of our key partners. If the brand or company of your interest is not listed here, please contact us for more information.